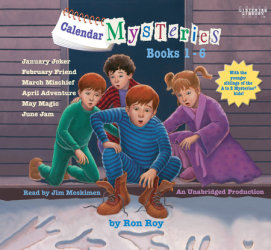 Calendar Mysteries: Books 1-6
January Joker; February Friend; March Mischief; April Adventure; May Magic; June Jam
Imprint: Listening Library
Grades: Grades 1-4
Ages: 6-9 years
Release Date: March 22, 2011
5 Hours
List Price: $33
ISBN: 9780307915566
January Joker
When Bradley wakes up in the night to strange lights in his backyard, he wonders if there are aliens in town. His twin, Brian, and friends Lucy and Nate aren't so certain. But then some kids disappear. Are there really aliens in Green Lawn?

February Friend
Bradley is passing out his class's valentines, but one of the cards tells the class to look in the closet. Inside they find a rabbit! Then the bunny gets sick. It's up to the gang to track down his owner and figure out what's wrong.

March Mischief
The kids dress up a leprechaun statue for the town's St. Patrick's Day contest. They leave it out on the porch overnight, but the next morning, it's missing! Who is behind the mischief? It will take four kids and the luck of the Irish to find out.

April Adventure
Bradley, Brian, Lucy, and Nate have hidden Easter eggs for the younger kids to find. But some of the golden eggs disappear! Can the four kids track down the thief?

May Magic
The twins celebrate Mother's Day by going to a hypnotist show. But when the family gets home, the twins' mom starts acting strange. She splashes in the bathtub, she leaves corn kernels all over, and she quacks! Bradley thinks his mom has actually turned into a duck! Can Bradley and Brian turn their mom back into their mom?

June Jam
Bradley, Brian, Nate and Lucy decided that jam from the Pintos' strawberry patch would be a great gift for Father's Day. But something or someone has been taking bites out of the strawberries! If the kids can't protect the strawberry patch from the mystery chomper, they might be in a real jam!