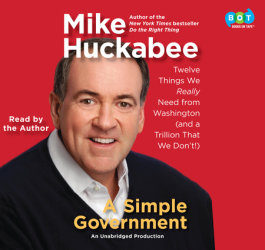 A Simple Government
Twelve Things We Really Need from Washington (and a Trillion That We Don't!)
Imprint: Books on Tape
Genre: Political Science - American Government - National

Release Date: February 22, 2011
6 Hours and 33 Minutes
List Price: $66.50
ISBN: 9780307881571
The New York Times bestseller that offers clear solutions to the key issues facing our nation.
Armed with little money but a lot of common sense, former Arkansas governor Mike Huckabee surprised the nation by coming in second during the 2008 Republican presidential primaries. He connected with millions of voters by calling for a smaller, simpler government that would get out of the way when appropriate.
Now he's written a book that sums up the twelve things we really need from Washington to get the country back on the right track. These twelve essential truths can help us tone down the partisan rancor and return to the simple principles of the Founding Fathers: liberty, justice, personal freedom, and civic virtue.
Huckabee is one of the country's most popular Republicans, and his voice will carry for years to come.