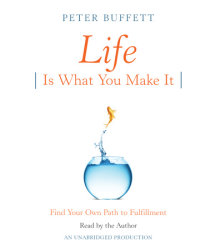 Life is What You Make It
Find Your Own Path to Fulfillment
Imprint: Books on Tape
Genre: Self-Help - Motivational & Inspirational

Release Date: April 27, 2010
5 Hours and 25 Minutes
List Price: $47.50
ISBN: 9780307749857
From composer, musician, and philanthropist Peter Buffett comes a warm, wise, and inspirational book that asks, Which will you choose: the path of least resistance or the path of potentially greatest satisfaction?

You may think that with a last name like his, Buffett has enjoyed a life of endless privilege. But the son of billionaire investor Warren Buffett says that the only real inheritance handed down from his parents was a philosophy: Forge your own path in life. It is a creed that has allowed him to follow his own passions, establish his own identity, and reap his own successes. 

In Life Is What You Make It, Buffett expounds on the strong set of values given to him by his trusting and broadminded mother, his industrious and talented father, and the many life teachers he has met along the way.

Today's society, Buffett posits, has begun to replace a work ethic, relishing what you do, with a wealth ethic, honoring the payoff instead of the process. We confuse privilege with material accumulation, character with external validation. Yet, by focusing more on substance and less on reward, we can open doors of opportunity and strive toward a greater sense of fulfillment. In clear and concise terms, Buffett reveals a great truth: Life is random, neither fair nor unfair.