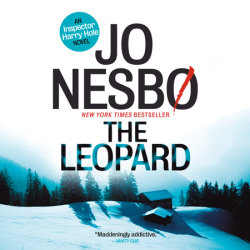 The Leopard
A Harry Hole Novel
Imprint: Books on Tape
Genre: Fiction - Mystery & Detective - General

Release Date: December 13, 2011
21 Hours and 21 Minutes
List Price: $95
ISBN: 9780307917638
"With Henning Mankell having written his last Wallander novel and Stieg Larsson no longer with us, I have had to make the decision on whom to confer the title of best current Nordic writer of crime fiction . . . Jo Nesbø wins." —Marcel Berlins, The Times (U.K.)

Two young women are found murdered in Oslo, both drowned in their own blood. Media coverage quickly reaches fever pitch: Could this be the work of a serial killer?
 
The crime scenes offer no coherent clues, the police investigation is stalled, and the one man who might be able to help doesn't want to be found. Traumatized by his last case, Inspector Harry Hole has lost himself in the squalor of Hong Kong's opium dens. Yet when he is compelled, at last, to return to Norway—his father is dying—Harry's buried instincts begin to take over. After a female MP is discovered brutally murdered, nothing can keep him from the investigation.
 
There is little to go on: a piece of rope, a scrap of wool, a bit of gravel, an unexpected connection between the victims. And Harry will soon come to understand that he is dealing with a psychopath for whom "insanity is a vital retreat," someone who will put him to the test—in both his professional and personal lives—as never before.
 
Ruthlessly intelligent and suspenseful, The Leopard is Jo Nesbø's most electrifying novel yet—absolutely gripping from first to last.