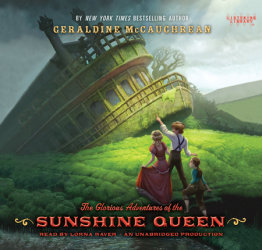 The Glorious Adventures of the Sunshine Queen
Imprint: Listening Library
Grades: Grades 3-7
Ages: 8-12 years
Release Date: June 14, 2011
8 Hours and 20 Minutes
List Price: $43
ISBN: 9780307746764
Ever since the magnificent Miss Loucien gave up teaching to join the Bright Lights Theater Company, school days have lacked a certain . . . drama . . . especially for Cissy, who longs for a life in show business, and Kookie, who craves adventure. But when a diphtheria outbreak interrupts the dull routine, Cissy and Kookie are evacuated to the doubtful safety of the Bright Lights' summer home—a shipwrecked paddle steamer on the flooded Missouri River.

Thus begins a wild and unpredictable journey downstream serving up grand performances, aggrieved river gamblers, irate lawmen, and perilous races. And when at long last Cissy steps into the limelight, the stakes are higher than she ever imagined.

Renowned storyteller Geraldine McCaughrean weaves a rip-roaring adventure in this funny tale that's chock-full of humor and heart.