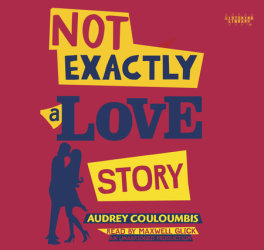 Not Exactly a Love Story
Imprint: Listening Library
Grades: Grade 9 & Up
Ages: 14 and up
Release Date: December 11, 2012
6 Hours and 14 Minutes
List Price: $39
ISBN: 9780385361385
"A fifteen-year-old creates an alter ego to woo his dream girl. Compulsively readable." —The New York Times
 
This quirky, flirty, and smart story will appeal to fans of Frank Portman's King Dork, John Green's An Abundance of Katherines, and Rainbow Rowell's Eleanor and Park. It's not exactly a love story . . . but it's pretty close.
 
It's 1977. Fifteen-year-old Vinnie is recovering from the worst case of acne his dermatologist's ever seen. His girl moved to California without saying good-bye. And the ink on his parents' divorce papers is barely dry when his mom announces they're moving from Queens to Long Island. The silver lining? Moving next door to Patsy, everyone's dream girl. Not that she'd ever notice him. But when Vinnie calls Patsy one night, it leads to a chain of anonymous midnight conversations, and the two develop a surprisingly strong connection despite the lies it's built on. But as Vinnie gets to know Patsy in real life, it's clear that both identities can't survive. . . .