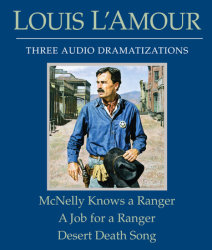 McNelly Knows a Ranger/A Job for a Ranger/Desert Death Song
Imprint: Random House Audio
Genre: Fiction - Westerns

Release Date: March 23, 2010
3 Hours
List Price: $14.99
ISBN: 9780307748744
This three-story collection includes:

McNelly Knows a Ranger
From the day Chick Bowdrie rode up to Noah Whipple's ranch gravely wounded, Whipple had treated him with kindness—almost like a son. When Whipple is shot by a notorious gunfighter, Bowdrie swears vengeance. Joining McNelly's Texas Rangers, he vows to hunt down the killer along with his gang. But Chick Bowdrie does not realize just how vicious they are . . . or how ruthless they can be.

A Job for a Ranger
There were bullet holes in the bank window and blood on the hitching rail. Five bandits and ten thousand dollars had ridden out of town and no one at the Rancher's Rest saloon had seen anything but a distinctively colored horse belonging to a local. But Chick Bowdrie soon had hard evidence that he was dealing with savage killers. To clear the name of an innocent man, Bowdrie pursues the murderous gang of bank robbers and cattle rustlers.

Desert Death Song
Powder Basin—the rugged country at the edge of a dry, forbidding desert—holds more hiding places than most men could find. Nat Bodine knows most of them; holed up in the Basin hills by a posse of over a hundred men, he needs them more than ever before. Jim Morton knows that if anyone is going to escape this posse, it's Bodine, just as he knows that Bodine is the kind of man who wouldn't commit the crime of which he's accused.