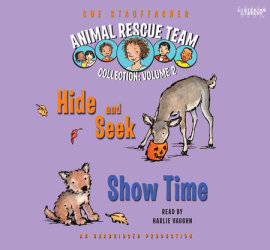 Animal Rescue Team Collection: Volume 2
#3: Hide and Seek; #4: Show Time
Imprint: Listening Library
Grades: Grades 3-7
Ages: 8-12 years
Release Date: February 08, 2011
5 Hours and 51 Minutes
List Price: $43
ISBN: 9780307738431
This two-story collection includes:

Hide and Seek
As Keisha and her pals prepare for Halloween, a phone call comes in to Carters' Urban Rescue: a deer has been spotted in the neighborhood . . . with a pumpkin on his head! The deer was enjoying the birdseed treat inside when, somehow, it got stuck. The Animal Rescue Team has a problem to solve: how do you get a pumpkin off a deer's head when you can't catch him? (And how can Keisha concentrate when the newest animal at Carters' Urban Rescue is howling his way into her heart?)

Show Time
The squirrels at Mt. Mercy College are getting too friendly—they're frightening the students . . . and they're super messy. It's time to call the Animal Rescue Team! Meanwhile, Keisha's got a problem of her own. The jump rope team has a chance to win first place, but Keisha keeps messing up! When Keisha meets Sergeant Pinkham, who's learning how to use his new prosthetic leg. Could Sarge be just the person to help Keisha stay calm, do well, and have fun at the competition?