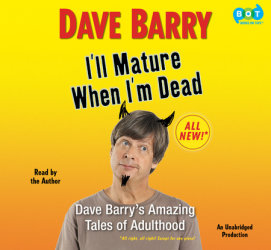 I'll Mature When I'm Dead
Dave Barry's Amazing Tales of Adulthood
Imprint: Books on Tape
Genre: Humor - Form - Essays

Release Date: May 04, 2010
4 Hours and 16 Minutes
List Price: $38
ISBN: 9780307737779
A brilliantly funny exploration of the treacherous state of adulthood by a Pulitzer Prize–winning humorist.
 
In eighteen hilarious pieces, Dave Barry tackles everything from fatherhood, new fatherhood ("Over the next five years, you will spend roughly 45 minutes, total, listening to songs you like, and roughly 127,000 hours listening to songs exploring topics such as how the horn on the bus goes"), self-image, the battle of the sexes, celebrity, and technology ("In the old days, the closest you could get to Twitter would be to mail dozens of postcards a day to everybody you know, each with a brief message like, 'Just had a caramel frappuccino. Yum!'"), to parenting styles, reality shows, certain medical procedures ("There is absolutely no reason to be afraid of a vasectomy"), and the ultimate adult, Jack "Damn it, Chloe, there's no time!" Bauer.

In all, it is an audiobook of pure delight from the man one newspaper said "could become the most important American humorist since Mark Twain" (South Florida Sun-Sentinel).