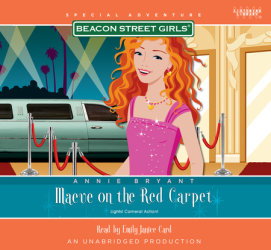 Beacon Street Girls Special Adventure: Maeve on the Red Carpet
Imprint: Listening Library
Grades: Grades 4-7
Ages: 9-12 years
Release Date: October 27, 2009
5 Hours and 40 Minutes
List Price: $28
ISBN: 9780739378953
A famous Hollywood director comes to the Brookline Movie House to run a special New York Film Academy film camp, and Maeve couldn't be more excited -- especially when she finds out this director is bringing her dreamy actor son!

Maeve's quest for the spotlight is interrupted by Madeline, the beautiful, talented, and ultra-rich daughter of the famous Krupcake King. She wants to star in the movie, too.

Will Maeve be the center of attention for both the dreamy actor son AND the film camp? Or will it be curtains for her dream of becoming a famous actress?