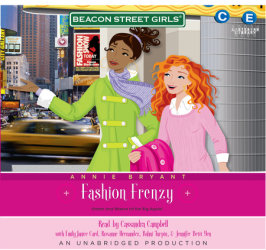 Beacon Street Girls #9: Fashion Frenzy
Imprint: Listening Library
Grades: Grades 4-7
Ages: 9-12 years
Release Date: June 09, 2009
5 Hours and 49 Minutes
List Price: $27.20
ISBN: 9780739378793
Meet  the Beacon Street Girls...They're real, they're fun-they're just like you!

Katani is off to New York City to take part in a real live fashion show! There's just one little problem–she can only take one friend and all of the BSG want to go. How can she possibly choose?

When the trip is almost canceled, Maeve figures out how to make it happen, and everyone agrees that she should get to go. But as the disasters keep coming–from the highway to the runway–Katani wonders if her dream trip to the Big Apple is nothing but trouble.