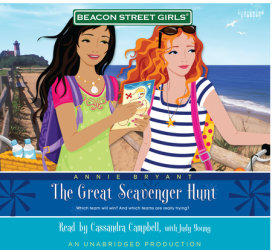 Beacon Street Girls #15: Great Scavenger Hunt
Imprint: Listening Library
Grades: Grades 4-7
Ages: 9-12 years
Release Date: May 12, 2009
7 Hours and 18 Minutes
List Price: $27.20
ISBN: 9780739378915
Meet  the Beacon Street Girls...They're real, they're fun-they're just like you!

The BSG are off on a weekend scavenger hunt on Cape Cod, with three teams vying to solve the most clues the fastest. The competition should be intense.

But there are so many distractions . . . like a beautiful beach that's perfect for volleyball and surfing (right up Avery's alley), and a movie crew shooting a film about a pirate ship (Maeve is so ready for her close-up). Charlotte's put so much work into the first official outing of the travel/adventure club–how will she feel when she finds out that not everyone is taking it seriously?