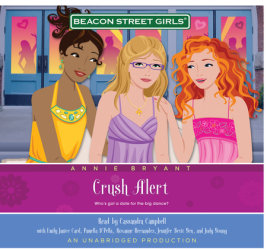 Beacon Street Girls #14: Crush Alert
Imprint: Listening Library
Grades: Grades 4-7
Ages: 9-12 years
Release Date: January 13, 2009
6 Hours and 28 Minutes
List Price: $27.20
ISBN: 9780739378892
Meet  the Beacon Street Girls...They're real, they're fun-they're just like you!

Love is in the air at Abigail Adams Junior High.

There's a big dance coming up, and the BSG are having fun thinking up dream dates. But as the day of the dance approaches, things start to get complicated. Why is Dillon paying more attention to Avery than Maeve? And why is Nick spending so much time with Chelsea, when everyone knows he and Charlotte are made for each other? Who will the BSG share the last dance with?