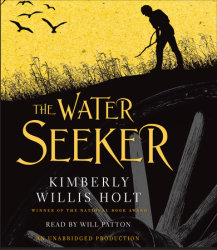 The Water Seeker
Imprint: Listening Library
Grades: Grade 5 & Up
Ages: 10 and up
Release Date: May 11, 2010
7 Hours and 3 Minutes
List Price: $47
ISBN: 9780307710956
"When I was a boy, my pa dowsed to earn extra money when we had a lean year. And when he put the branch in my hands for the first time, I felt a burning inside me because I had the gift, too. Just be thankful I didn't hand that gift down to you."

Amos figured it was probably best not to tell his father that it was too late.
 
What would you do if you knew you had a special gift—a sixth sense—that was passed down from one generation to the next? A gift that could help people in times of need, but one your father often saw as a trap. Would you use that gift? 

This is the story of Amos Kincaid, the dowser's son.