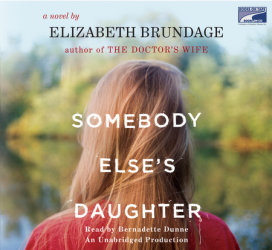 Somebody Else's Daughter
Imprint: Books on Tape
Genre: Fiction - Thrillers - Psychological

Release Date: August 05, 2008
13 Hours
List Price: $85.50
ISBN: 9781415954935
Two young drifters, Nate and Cat—bottomed out on drugs and living on the margins of San Francisco—are forced by stress and circumstance to give up their infant daughter. Seventeen years later, Nate comes to the idyllic setting of the Berkshires to teach at the elite private Pioneer School—as his daughter's teacher.

Willa Golding, ensconced in a magnificent country home with her parents, has never worried much about being adopted. But when the world she's always trusted becomes a foreign place, she learns that her adoptive parents have not been totally honest with her—nor with others in their privileged circle. 

Claire Squire is a visual artist struggling on the outskirts of her profession. It is a lucky break to get her troubled son, Teddy, a backdoor acceptance to Pioneer. But Teddy soon finds it's a precarious place well disguised by preppy ties, plaid skirts, and activities designed to look good on college applications. 

Somebody Else's Daughter is a collision of two very different fathers—biological and adoptive; a woman whose independence and talent have led her to dead ends in life and love; and a villain whose intentions slowly unfold with the help, witting and unwitting, of all those around him. An electric, suspenseful tale of conflicted characters and the fractured landscape of the American psyche, it scratches the surface of the Berkshire dream.