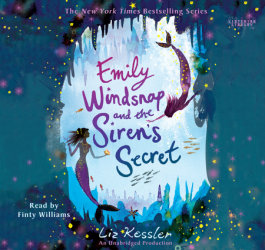 Emily Windsnap and the Siren's Secret
Imprint: Listening Library
Grades: Grades 2-5
Ages: 7-10 years
Release Date: July 12, 2011
5 Hours and 50 Minutes
List Price: $33
ISBN: 9780307917058
The fourth audiobook in the best-selling series about half-mermaid, half-girl Emily Windsnap!

Emily Windsnap's life on Allpoints Island seems perfect—her family is all together again, and she has both her best friend, Shona, and her new friend Aaron with her there. Somehow, though, it still feels like something—or somewhere—is missing. So when Neptune gives the Windsnaps a mission that sends them all back to Brightport, their hometown, what could be better?

But as construction in Brightport threatens to destroy the nearby mer-town of Shiprock, Neptune's desire to have humans and mermaids come together seems impossible. Between trying to help humans and merfolk get along, sorting out her growing feelings toward Aaron, finding some missing sirens with Shona, and dealing with her old enemies Mandy and Mr. Beeston, Emily certainly has her fins full!