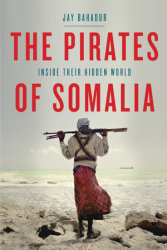 The Pirates of Somalia
Inside Their Hidden World
Imprint: Books on Tape
Genre: Travel - Africa - North - General

Release Date: July 19, 2011
8 Hours and 35 Minutes
List Price: $76
ISBN: 9780307969804
Somalia, on the tip of the Horn of Africa, has been inhabited as far back as 9,000 BC. Its history is as rich as the country is old. Caught up in a decades-long civil war, Somalia, along with Iraq and Afghanistan, has become one of the most dangerous countries in the world. Getting there from North America is a forty-five-hour, five-flight voyage through Frankfurt, Dubai, Djibouti, Bossaso (on the Gulf of Aden), and, finally, Galkayo. Somalia is a place where a government has been built out of anarchy.
 
For centuries, stories of pirates have captured imaginations around the world. The recent bands of daring, ragtag pirates off the coast of Somalia, hijacking multimillion-dollar tankers owned by international shipping conglomerates, have brought the scourge of piracy into the modern era.
 
The capture of the American-crewed cargo ship Maersk Alabama in April 2009, the first United States ship to be hijacked in almost two centuries, catapulted the Somali pirates onto prime-time news. Then, with the horrific killing by Somali pirates of four Americans, two of whom had built their dream yacht and were sailing around the world ("And now on to: Angkor Wat! And Burma!" they had written to friends), the United States Navy, Special Operation Forces, FBI, Justice Department, and the world's military forces were put on notice: the Somali seas were now the most perilous in the world.
 
Jay Bahadur, a journalist who dared to make his way into the remote pirate havens of Africa's easternmost country and spend months infiltrating their lives, gives us the first close-up look at the hidden world of the pirates of war-ravaged Somalia.
 
Bahadur's riveting narrative exposé—the first ever—looks at who these men are, how they live, the forces that created piracy in Somalia, how the pirates spend the ransom money, how they deal with their hostages. Bahadur makes sense of the complex and fraught regional politics, the history of Somalia and the self-governing region of Puntland (an autonomous region in northeast Somalia), and the various catastrophic occurrences that have shaped their pirate destinies. The book looks at how the unrecognized mini-state of Puntland is dealing with the rise—and increasing sophistication—of piracy and how, through legal and military action, other nations, international shippers, the United Nations, and various international bodies are attempting to cope with the present danger and growing pirate crisis.

A revelation of a world at the epicenter of political and natural disaster.