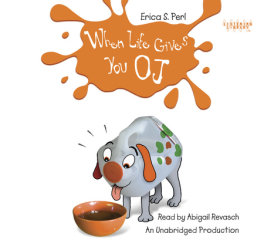 When Life Gives You O.J.
Imprint: Listening Library
Grades: Grades 3-7
Ages: 8-12 years
Release Date: March 12, 2013
4 Hours and 47 Minutes
List Price: $33
ISBN: 9780385393270
For years, 10-year-old Zelly Fried has tried to convince her parents to let her have a dog. After all, practically everyone in Vermont owns a dog, and it sure could go a long way helping Zelly fit in since moving there from Brooklyn. But when her eccentric grandfather Ace hatches a ridiculous plan involving a "practice dog" named OJ, Zelly's not so sure how far she's willing to go to win a dog of her own. Is Ace's plan so crazy it just might work . . . or is it just plain crazy?

Erica S. Perl weaves an affectionate and hilarious tale that captures the enduring bond between grandparents and grandchildren.  Even when they're driving each other nuts.