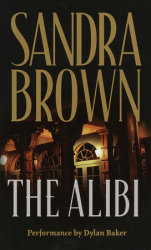 The Alibi
Imprint: Books on Tape
Genre: Fiction - Thrillers - Legal

Release Date: December 04, 2007
14 Hours and 36 Minutes
List Price: $95
ISBN: 9781415950944
Born into a fine old Charleston family, Hammond Cross is determined to be the city's next district attorney-without sacrificing his integrity. Prosecuting the sensational murder of real estate magnate Lute Pettijohn could be his ticket into the office. Yet while Hammond anticipates his success, someone near him is plotting his downfall--

Steffi Mundell, colleague, ex-lover, and rival for the DA's office--Rory Smilow, the homicide detective without equal and Hammond's avowed enemy--the wily and beautiful Davee Pettijohn, Lute's widow and Hammond's lifelong friend, who's too honest to mourn the husband she despised--and Hammond's prime suspect, the mysterious woman who shares the secret that would be fatal to Hammond's ambitions.

For the first time in his career, he's bending the rules in favor of the suspect. All clues point to her guilt. Yet she holds in reserve the perfect alibi-Hammond Cross.