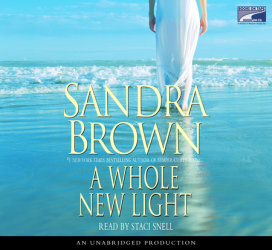 A Whole New Light
A Novel
Imprint: Books on Tape
Genre: Fiction - Romance - Contemporary

Release Date: November 27, 2007
5 Hours and 2 Minutes
List Price: $38
ISBN: 9781415943243
Cyn McCall knew she could always count on her late husband's friend and business partner, Worth Lansing. He could make her laugh and forget her problems. She could tease him about his many romantic entanglements. The last thing Cyn expected was to find herself longing for a man who could never settle down.

When Worth invites Cyn to a getaway weekend in Acapulco, he doesn't expect to be sharing a room–or to respond to her the way he does to any beautiful woman. While he thinks it's time Cyn stopped mourning and moved forward with her life, he can't escape the feeling he's betraying his friend's memory. But even guilt can't stop the desire that overwhelms him–and ultimately overtakes them both.

Cyn wants to believe their night of passion was sparked by the exotic locale and intoxicating scent of hibiscus. But Worth knows they share something deeper, something that will outlast the Mexican sunglow. He knows he's finally ready to stop playing games . . . if only Cyn would open her heart to new possibilities and the promise of love.