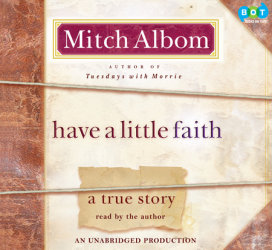 Have A Little Faith
A True Story
Imprint: Books on Tape
Genre: Religion - Faith

Release Date: September 22, 2009
4 Hours and 49 Minutes
List Price: $38
ISBN: 9780307704047
Albom's first nonfiction book since Tuesdays with Morrie, Have a Little Faith begins with an unusual request: an eighty-two-year-old rabbi from Albom's old hometown asks him to deliver his eulogy.
     
Feeling unworthy, Albom insists on understanding the man better, which throws him back into a world of faith he'd left years ago. Meanwhile, closer to his current home, Albom becomes involved with a Detroit pastor who preaches to the poor and homeless in a decaying church with a hole in its roof. Moving between their worlds, Albom observes how these very different men employ faith similarly in fighting for survival: the older, suburban rabbi embracing it as death approaches; the younger, inner-city pastor relying on it to keep himself and his church afloat.

Have a Little Faith is a book about a life's purpose; about losing belief and finding it again; about the divine spark inside us all. It is one man's journey, but it is everyone's story.