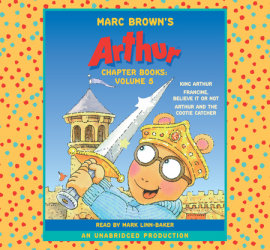 Marc Brown's Arthur Chapter Books: Volume 5
King Arthur; Francine, Believe it or Not; Arthur and the Cootie-Catcher
Imprint: Listening Library
Grades: Grades 1-4
Ages: 6-9 years
Release Date: January 13, 2009
1 Hours and 58 Minutes
List Price: $20.40
ISBN: 9780739371756
Read by Mark Linn-Baker
Approx. 2 hours
2 cassettes

Continuing the tradition of Arthur Chapter Books on audio, this fifth volume is sure to be a hit among Arthur fans.

Arthur and his third-grade class compete at the Middle Ages fair in King Arthur.  In Francine, Believe it or Not, Francine attempts to keep her cool in order to win a coveted watch.  And Arthur and his friends have fun with a mysterious fortune-telling cootie-catcher in Arhtur and the Cootie-Catcher.