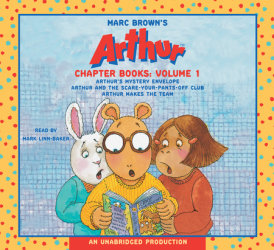 Marc Brown's Arthur Chapter Books: Volume 1
Arthur's Mystery Envelope; Arthur and the Scare-Your-Pants-Off Club; Arthur Makes the Team
Imprint: Listening Library
Grades: Grades 1-4
Ages: 6-9 years
Release Date: September 23, 2008
1 Hours and 47 Minutes
List Price: $20.40
ISBN: 9780739371671
Three popular chapter books spring to life to delight fans of Marc Brown's Arthur® series:

Arthur's Mystery Envelope: What can possibly be in the sealed envelope Mr. Ratburn sent home with Arthur? Arthur is so worried he can't even eat or sleep. Whatever it is he's done . . . he's sure it can't be good.

Arthur and the Scare-Your-Pants-Off Club: Arthur and his pals can't wait for the next book in the Scare-Your-Pants-Off series until they learn that a parents' group is trying to ban the popular books. The gang learns about standing up for what's right as they get help from a surprising source.

Arthur Makes the Team: It feels as if it's going to be a long season for Arthur as he struggles to sharpen his basketball skills. But before it's all over, he learns an important lesson about teamwork.