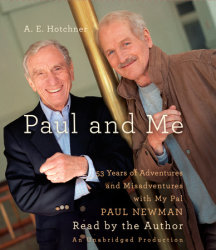 Paul and Me
Fifty-three Years of Adventures and Misadventures with My Pal Paul Newman
Imprint: Books on Tape
Genre: Biography & Autobiography - Entertainment & Performing Arts

Release Date: March 23, 2010
6 Hours and 16 Minutes
List Price: $47.50
ISBN: 9780307712837
Bestselling author A. E. Hotchner's intimate account of his 53-year friendship with his pal Paul Newman.

A. E. Hotchner first met Paul Newman in 1955 when the virtually unknown actor assumed the lead role in Hotchner's first television play, based on an Ernest Hemingway story. The project elevated both men from relative obscurity to recognition and began a close and trusted friendship that lasted until Newman's death in 2008.
 
In Paul and Me, Hotchner depicts a complicated, unpredictable, fun-loving, talented man, and takes the reader along on their adventures. The pair traveled extensively, skippered a succession of bizarre boats, confounded the business world, scored triumphs on the stage, and sustained their friendship through good times and bad.  Most notably, they started Newman's Own as a prank and watched it morph into a major enterprise that so far has donated all its $300 million in profit to charities including the Hole in the Wall Camps worldwide, dedicated to helping thousands of children with life-threatening illnesses.
 
Paul and Me, complete with personal photographs, is the story of a freewheeling friendship and a tribute to the acclaimed actor who gave to the world as much as the world gave him.