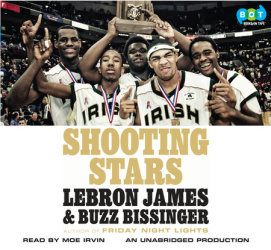 Shooting Stars
Imprint: Books on Tape
Genre: Biography & Autobiography - Sports

Release Date: September 01, 2009
7 Hours and 14 Minutes
List Price: $76
ISBN: 9781415967270
From basketball superstar LeBron James and Buzz Bissinger, Pulitzer Prize—winning author of Friday Night Lights, comes a poignant, thrilling tale of the power of teamwork to transform young lives, including James's own

The Shooting Stars were a bunch of kids from Akron, Ohio–LeBron James and his best friends–who first met on a youth basketball team of the same name. United by their love of the game and their yearning for companionship, they quickly forged a bond that would carry them through thick and thin to the brink of a national championship.

The Shooting Stars tasted glory when they qualified for a national championship tournament. But they lost their focus, and had to go home early. They promised each other they would stay together to win a national title. In the years that followed, they would endure jealousy, hostility, exploitation, and the consequences of their own overconfidence. Not least, they would all have to wrestle with James's outsize success. But together these five boys became men as they sought a national championship.