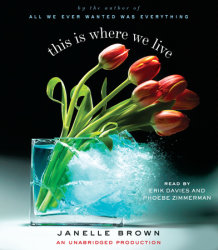 This is Where We Live
A Novel
Imprint: Books on Tape
Genre: Fiction - Sagas

Release Date: June 15, 2010
13 Hours and 16 Minutes
List Price: $95
ISBN: 9780307736239
A novel about subprime mortgages, ruthless Hollywood economics, and the unraveling of a young marriage from the New York Times bestselling author of Watch Me Disappear and Pretty Things

This Is Where We Live tells the story of Claudia and Jeremy, a young married couple (she's an aspiring filmmaker, he's an indie musician) who are on the verge of making it. Her first film was a sensation at Sundance and is about to have its theatrical release, he's assembled a new band and is a few songs shy of an album. They've recently purchased their first home—an adorable mid-century bungalow with a breathtaking view of the city of Los Angeles—with the magical assistance of an adjustable-rate mortgage. But a series of seismic events—the tanking of Claudia's film, the return of Jeremy's ex-girlfriend (a manipulative, self-destructive, fabulously successful artist), and the staggering adjustment of their monthly mortgage payments—deal a crushing blow to their dreams of the bohemian life and their professional aspirations and make them question their values and their shared vision of the future.

As she did so insightfully in her first novel, All We Ever Wanted Was Everything, Janelle Brown once again proves herself a trenchant social commentator and a keen and compassionate chronicler of the emotional turmoil, moral conflicts, and knowing compromises of her characters. This Is Where We Live is a novel about the crucible of this economic moment—the way these times play with our hopes, compel us to reckon with our ambition, test our capacity for reinvention, and ask us to question the very things we love.