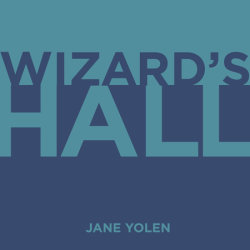 Wizard's Hall
Imprint: Listening Library
Grades: Grade 5 & Up
Ages: 10 and up
Release Date: November 05, 2019
2 Hours and 53 Minutes
List Price: $34
ISBN: 9780593216552
An inept wizard-in-training is the only one who can save his classmates from the terrible sorcery that threatens to devour their magical school

Acclaimed master fantasist Jane Yolen imagines an academic world of wonders where paintings speak, walls move, monsters are made real, and absolutely anything can happen—as she introduces readers to a hero as hapless as the legendary Merlin is powerful.
 
It was Henry's dear ma who decided to send him off to Wizard's Hall to study sorcery, despite the boy's apparent lack of magical talent. He has barely stepped through the gates of the magnificent school when he is dubbed Thornmallow ("prickly on the outside, squishy within"). Still, regardless of his penchant for turning even the simplest spell into a disaster, Thornmallow's teachers remain kind and patient, and he soon has a cadre of loyal, loving friends. But there is something that no one is telling the boy: As the 113th student to enroll in the wondrous academy, Thornmallow has an awesome and frightening duty to fulfill—and failure will mean the destruction of Wizard's Hall and everyone within its walls.