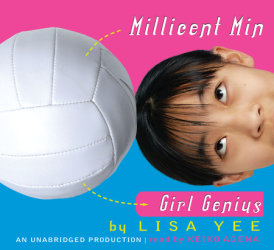 Millicent Min, Girl Genius
Imprint: Listening Library
Grades: Grades 4-7
Ages: 9-12 years
Release Date: August 26, 2008
5 Hours and 27 Minutes
List Price: $32.30
ISBN: 9780739367568
Millicent Min is having a bad summer. Her fellow high school students hate her for setting the curve. Her fellow eleven-year-olds hate her for going to high school. Her grandmother Maddie is moving away. And in an effort to give Millicent a more "normal" childhood, her mom has not only signed her up for volleyball, she's also arranged for Millie to tutor Stanford Wong–jock, jerk, and poster boy for Chinese geekdom.

But when Millicent meets Emily, things start to look up. Emily doesn' t know Millicent's IQ score. She actually thinks Millie is cool. And if Millie can hide her awards, ignore her grandmother's advice, blackmail Stanford into silence, learn to serve a volleyball over the net, stop her parents from embarrassing her forever, and keep all her lies straight, she just might make her first friend.

What's it going to take?

Sheer genius.