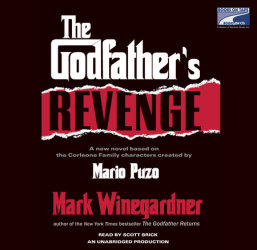 Godfather's Revenge
Imprint: Books on Tape
Genre: Fiction - Thrillers - Crime

Release Date: July 06, 2010
19 Hours and 53 Minutes
List Price: $95
ISBN: 9780307876300
Mario Puzo's The Godfather became a mega-bestseller and an instant classic. In The Godfather's Revenge, the third and concluding novel in Mario Puzo's landmark saga, Winegardner moves the Corleone family onto the biggest stage of all: the intersection of organized crime and national politics.

At its center are five men: Michael Corleone, boss of America's most powerful crime family, is a haunted man–tormented by demons from his past even as he pursues the mantle of legitimacy. Former caporegime Nick Geraci is a hunted man–sought with equal fervor by the Corleones, who want him dead, and the feds, whose designs are less clear. U.S. Attorney General Daniel Brendan Shea is an ambitious man–determined to forge a name for himself by toppling the kingpins of organized crime. Carlo Tramonti is a vindictive man–the capo of the New Orleans syndicate, who will exact his revenge no matter the cost. And Tom Hagen is a trapped man, an Irish consigliere in an Italian world, charged with brokering a nearly impossible compromise with the government–and putting himself in mortal peril.

The explosive collision of these powerful men culminates in a tragedy of historic proportion–an unforgettable capstone to Puzo's great American epic. But the true measure of Mark Winegardner's achievement is in capturing not only the outsized personalities working for power and control, but also their interior lives, the colorful array of wives and daughters, parents and friends who surround them–the intimate details and textures that constitute the world of contradictory impulses and best intentions of that strangest and most exotic of institutions, family.