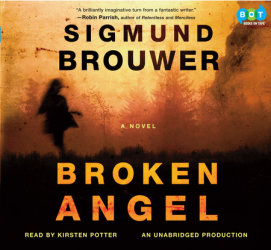 BOT Exclusive
Broken Angel
A Novel
Imprint: Books on Tape
Genre: Fiction - Christian - General

Release Date: August 04, 2009
7 Hours and 40 Minutes
List Price: $76
ISBN: 9780739381601
In this engrossing, lightning-paced story with a post-apocalyptic edge, best-selling author Sigmund Brouwer weaves a heroic, harrowing journey through the path of a treacherous nation carved from the United States.

In the rough, shadowy hills of Appalachia, in what is left of the United States following years of government infighting, Caitlyn Brown and her companions are prey in a terrifying hunt. They must outwit relentless bounty hunters, skirt an oppressive, ever-watchful society, and find passage over the walls of Appalachia to reveal the dark secrets behind Caitlyn's existence.

Her birth was shrouded in mystery and tragedy. Her destiny is beyond comprehension. Her pursuers long to see her broken. But she fights to soar.