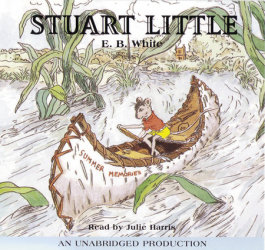 Stuart Little
Imprint: Listening Library
Grades: Grades 4-7
Ages: 9-12 years
Release Date: October 17, 2006
1 Hours and 57 Minutes
List Price: $22
ISBN: 9780553455304
Categories:
Juvenile Fiction - Action & Adventure - General, Juvenile Fiction - Animals - Mice, Hamsters, Guinea Pigs, etc., Juvenile Fiction - Classics
Tags:
animals, fantasy, children's, children, adventure, classic, mice, mouse, classics, family, children's literature, children's fiction, juvenile, juvenile fiction, kids, young adult, e.b. white, ya, talking animals, literature, american, friendship, new york city, new york, children's book, children's books, youth, love, 20th century, school
For decades, E.B. White's charming, bittersweet tales of friendship and adventure have enchanted audiences young and old alike. Now the magic of this beloved classic comes to life in a delightful and completely unabridged recording, read by award-winning actress Julie Harris.

Stuart Little is a shy, philosophical little mouse with a big heart and a taste for adventure. In spite of his diminutive stature, barely two inches tall,

Stuart sets forth into the world wtih some mighty big plans: to ride a Fifth Avenue bus, to win a sailboat race in Central Park, and to teach school for a day. But Stuart's greatest adventure begins when he decides to find his best friend, Margalo, a pretty little bird who once lived in a Boston fern in the Littles' house in New York City. Climbing into his tiny car, Stuart hits the open road, sure he's heading in the right direction, only to find himself in for a big surprise.

Filled with warmth, wit and wonder, Stuart Little, is a timeless tale that speaks to the heroic spirit in all of us - no matter what our size.