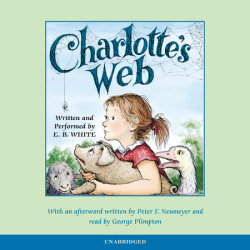 Charlotte's Web
Imprint: Listening Library
Grades: Grades 3-7
Ages: 8-12 years
Release Date: October 17, 2006
3 Hours and 34 Minutes
List Price: $27
ISBN: 9780807208526
Categories:
Juvenile Fiction - Classics, Juvenile Fiction - Animals - General, Juvenile Fiction - Social Themes - Friendship
Tags:
animals, friendship, classic, children's, fantasy, children, farm, pigs, spiders, classics, children's literature, children's fiction, death, talking animals, farm animals, kids, juvenile, young adult, love, farm life, literature, childhood, juvenile fiction, family, children's book, children's books, ya, american, friends, e.b. white
Since its publication in 1952, Charlotte's Web has become one of America's best-loved children's books. For fifty years, this timeless story of the pig named Wilbur and the wise spider named Charlotte who saved him has continued to warm the hearts of readers everywhere. Now this classic, a 1953 Newbery Honor book, comes to life in a delightful unabridged recording, read lovingly by the author himself.