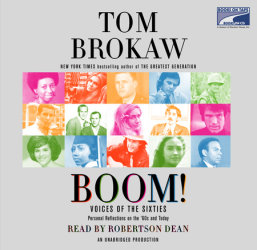 Boom!
Voices of the Sixties Personal Reflections on the '60s and Today
Imprint: Books on Tape
Genre: History - United States - 20th Century

Release Date: November 06, 2007
18 Hours and 16 Minutes
List Price: $95
ISBN: 9781415943229
In The Greatest Generation, his landmark bestseller, Tom Brokaw eloquently evoked for America what it meant to come of age during the Great Depression and the Second World War. Now, in BOOM!, one of America's premier journalists gives us an epic portrait of another defining era in America as he brings to life the tumultuous Sixties, a fault line in American history. Brokaw takes us on a memorable journey through a remarkable time, exploring how individual lives and the national mindset were affected by a controversial era and showing how the aftershocks of the Sixties continue to resound in our lives today.

BOOM! gives us what Brokaw sees as a virtual reunion of some members of "the class of '68." As they look back decades later, what do members of the Sixties generation think really mattered in that tumultuous time, and what will have meaning going forward? Race, war, politics, feminism, popular culture, and music are all explored here. Remarkable in its insights, this revealing portrait of a generation and of an era, and of the impact of the 1960s on our lives today, lets us be present at this reunion ourselves, and join in these frank conversations about America then, now, and tomorrow.