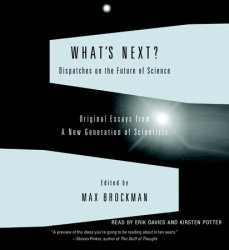 What's next
Dispatches on the Future of Science
Imprint: Books on Tape
Genre: Science - Essays

Release Date: May 26, 2009
7 Hours and 16 Minutes
List Price: $47.50
ISBN: 9781415967225
Will climate change force a massive human migration to the Northern Rim?

How does our sense of morality arise from the structure of the brain?

What does the latest research in language acquisition tells us about the role of culture in the way we think?

What does current neurological research tell us about the nature of time?

This wide-ranging collection of never-before-published essays offers the very latest insights into the daunting scientific questions of our time. Its contributors—some of the most brilliant young scientists working today—provide not only an introduction to their cutting-edge research, but discuss the social, ethical, and philosophical ramifications of their work. With essays covering fields as diverse as astrophysics, paleoanthropology, climatology, and neuroscience, What's Next? is a lucid and informed guide to the new frontiers of science.