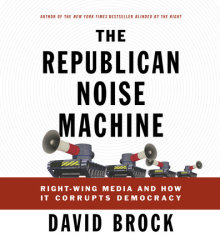 BOT Exclusive
The Republican Noise Machine
Right-Wing Media and How It Corrupts Democracy
Imprint: Books on Tape
Genre: Political Science - International Relations - Diplomacy

Release Date: January 29, 2008
15 Hours and 11 Minutes
List Price: $95
ISBN: 9781415953747
In The Republican Noise Machine, David Brock skillfully documents perhaps the most important but least understood political development of the last thirty years: how the Republican Right has won political power and hijacked public discourse in the United States.

Brock, a former right-wing insider and the author of the New York Times bestseller Blinded by the Right, uses his keen understanding of the strategies, tactics, financing, and personalities of the American right wing to demonstrate how the once-fringe phenomenon of right-wing media has all but subsumed the regular media conversation, shaped the national consciousness, and turned American politics sharply to the right.

Brock documents how in the last several decades the GOP built a powerful media machine--newspapers and magazines, think tanks, talk radio networks, op-ed columnists, the FOX News Channel, Christian Right broadcasting, book publishers, and high-traffic internet sites--to sell conservatism to the public and discredit its opponents. This unabashedly biased multibillion-dollar communications empire disregards journalistic ethics and universal standards of fairness and accuracy, manufacturing "news" that is often bought and paid for by a tight network of corporate-backed foundations and old family fortunes. By dissecting the appeal, techniques, and reach of the booming right-wing media market, Brock demonstrates that it is largely based on bigotry, ignorance, and emotional manipulation closely tied to America's longstanding cultural divisions and the buying power of anti-intellectual traditionalists.

From the disputed 2000 presidential election to the war with Iraq to the political battles of 2004, Brock's penetrating analysis of right-wing media theories and methodology reveals that the Republican Right views the media as an extension of a broader struggle for political power. By tracing the political impact of right-wing media, Brock shows how disproportionate conservative influence in the media is integrally linked to the Republican Right's current domination of all three branches of government, to the propping up of the Bush administration, and to the inability of Democrats to voice their opposition to this political sea change or to compete on an even playing field.

As only an ex-conservative intimately familiar with the imperatives of the American right wing could, David Brock suggests ways in which concerned Americans can begin to redress the conservative ascendancy and cut through the propagandistic fog. Writing with verve and deep insight, he reaches far beyond typical bromides about media bias to produce an invaluable account of the rise of right-wing media and its political consequences. Promising to be the political book of the year, The Republican Noise Machine will transform the raging yet heretofore unsatisfying debate over the politics of the media for years to come.