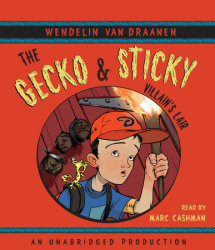 The Gecko and Sticky: Villain's Lair
Imprint: Listening Library
Grades: Grades 3-7
Ages: 8-12 years
Release Date: February 10, 2009
2 Hours and 52 Minutes
List Price: $20.40
ISBN: 9780739379219
The Gecko & Sticky are a fabulous crime-fighting duo! This quartet of funny adventures will appeal to fans of superheroes both young and old, and would make terrific all-family read-alouds.

Dave Sanchez is an average boy with an after-school job and a pet gecko named Sticky. All very normal—until the day Sticky talks!

Sticky tells Dave a wild tale of a former life of crime, searching for Aztec gold with a treasure hunter named Damien Black, and of a magical Aztec wristband with shiny gold power ingots that will give the wearer super powers. Dave doesn't believe a word—until Sticky shows him the wristband.

But while Sticky managed to escape with the wristband, Damien Black has the power ingots. So the lizard and treasure hunter each have something the other wants . . . very badly. 

Filled with wild adventures, larger-than-life characters, and snappy-funny dialogue, The Gecko and Sticky books are perfect for young superheroes everywhere. 

Don't miss the other Gecko & Sticky adventures:  
1. The Villain's Lair,
2. The Greatest Power,
3. Sinister Substitute, and
4. The Power Potion.