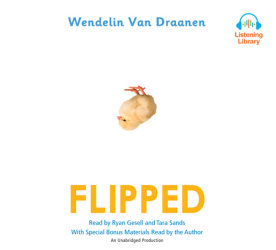 Flipped
Imprint: Listening Library
Grades: Grade 5 & Up
Ages: 10 and up
Release Date: January 10, 2017
7 Hours and 1 Minutes
List Price: $50
ISBN: 9781524751678
This special audiobook of the classic he-said-she-said romantic comedy includes essays written and read by Wendelin Van Draanen.
 
The first time she saw him, she flipped. The first time he saw her, he ran. That was the second grade, but not much has changed by the seventh. Juli says: "My Bryce. Still walking around with my first kiss." He says: "It's been six years of strategic avoidance and social discomfort." But in the eighth grade everything gets turned upside down: just as Bryce is thinking that there's maybe more to Juli than meets the eye, she's thinking that he's not quite all he seemed.
 
Bonus content includes: Wendelin Van Draanen on her sources of inspiration, the making of the movie of FLIPPED, and why she'll never write a sequel. Narrators Ryan Gesell and Tara Sands read a selection of the amazing fan mail Wendelin has received.