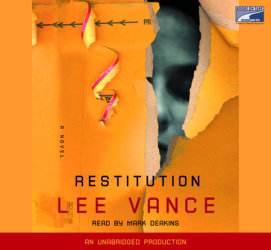 BOT Exclusive
Restitution
Imprint: Books on Tape
Genre: Fiction - Thrillers - General

Release Date: July 10, 2007
10 Hours and 4 Minutes
List Price: $95
ISBN: 9781415940259
Peter Tyler seems to have it all–a beautiful and accomplished wife, a high-powered Wall Street career, a sprawling house in the suburbs. But beneath this perfect surface, things are not what they seem. Haunted by an unhappy childhood, Peter drifts from his wife and her ideal of family life, and eventually seeks solace in a one-night stand.

Before Peter can fully come to grips with what he's done, his house is broken into and his wife brutally murdered. When the police discover that a mysterious package from Peter's best friend, Andrei, is the only thing missing, they rule out random robbery. And when they discover Peter's infidelity–combined with his refusal to reveal the identity of his lover–he becomes their prime suspect. To complete the nightmare, Andrei has disappeared without a trace.

Forced to run, Peter will have to question everything he has ever believed as he struggles to unravel the truth before the police catch up with him. Along the way he'll encounter embittered, conniving foes and a spectacular act of revenge that will take your breath away. Whip-smart and adrenaline-fueled, this is an audiobook you won't be able to stop listening to until you know everything.