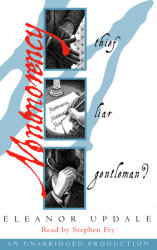 Montmorency
Thief, Liar, Gentleman?
Imprint: Listening Library
Grades: Grade 7 & Up
Ages: 12 and up
Release Date: October 10, 2006
5 Hours and 11 Minutes
List Price: $25.50
ISBN: 9780739349786
When a petty thief falls though a glass roof in his attempt to escape from the police, what should have been the death of him marks the beginning of a while new life. After his broken body is reconstructed by an ambitious young doctor, he is released from prison, and--with the help of Victorian London's extensive sewer system--he becomes the most elusive burglar in the city. He adopts a dual existence as a respectable, wealthy gentleman named Montmorency, and his degenerate servant Scarper. But Montmorency must always be on guard. The smallest mistake could reveal his secret and ruin both his lives.