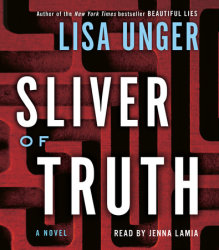 Sliver of Truth
A Novel
Imprint: Books on Tape
Genre: Fiction - Thrillers - Suspense

Release Date: January 02, 2007
12 Hours and 3 Minutes
List Price: $95
ISBN: 9781415936542
Ridley Jones is being careful about where she steps and trying to get on with her life when a seemingly mundane act–picking up a few envelopes of prints at a photo lab–puts her at the nexus of a global network of crime. A shadowy figure of a man appears in almost every picture she's taken in the last year, lurking just far enough away to make identification impossible.

Now the FBI is at her door, some serious bad guys are following her every move, and the family she once loved and relied on is more distant than ever. The only thing Ridley knows for sure is that she has to get to the truth about herself and her past if she's ever going to find her way home.

Charged with relentless intensity and kinetic action, playing out with unnerving suspense on the streets of New York and London, and seen through the terrified but determined eyes of a young woman whose body and heart are pushed to the point of shattering, SLIVER OF TRUTH is another triumph from the New York Times bestselling author of Beautiful Lies.