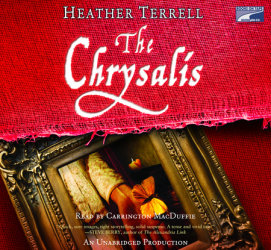 BOT Exclusive
The Chrysalis
Imprint: Books on Tape
Genre: Fiction - Thrillers - Historical

Release Date: May 15, 2007
8 Hours and 13 Minutes
List Price: $76
ISBN: 9781415939239
Haarlem, Holland, seventeenth century: The city's chief magistrate commissions a family portrait from Dutch master painter Johannes Miereveld. But when the artist sees the magistrate's daughter, Amalia, an illicit love affair begins, and Miereveld creates a captivating masterpiece, The Chrysalis.

New York, present day: Mara Coyne is one high-profile case away from making partner at her powerful Manhattan law firm, and now the client that is sure to seal the deal has fallen into her lap. The prestigious Beazley's auction house is about to sell a lost masterwork, The Chrysalis, in an auction that is destined to become legendary. Standing in the way, however, is the shocking accusation that the painting belongs not to Beazley's client but to Hilda Baum, the daughter of a Dutch collector who lost his paintings–and his life–to the Nazis.

Spanning centuries and continents, THE CHRYSALIS is a brilliant, intelligent, fast-paced thriller that melds art and history into a provocative work of fiction. Heather Terrell has created a fascinating story that will entrance listeners to the very last word.