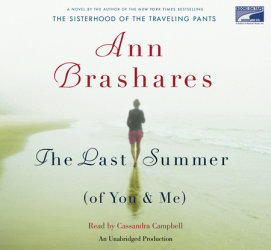 The Last Summer (Of You and Me)
Imprint: Books on Tape
Genre: Fiction - Women

Release Date: June 05, 2007
9 Hours and 1 Minutes
List Price: $76
ISBN: 9781415941270
Set against the vivid backdrop of Waterby on Fire Island, THE LAST SUMMER (OF YOU AND ME) is the heartrending story of a beach-community friendship triangle among three young adults for whom summer and this place have meant everything.

Sisters Riley and Alice, now in their twenties, have been returning to their parents' modest beach house every summer for their entire lives. Petite, tenacious Riley is a tomboy and a lifeguard, always ready for a midnight swim or a gale-force sail. Beautiful Alice is lithe, gentle, a reader and a thinker, and worshipful of her older sister. And every summer growing up, in the big house that overshadowed their humble one, there was Paul, a friend as important to both girls as the place itself, who has now finally returned to the island after three years away. But his return marks a season of tremendous change, and when a simmering attraction, a serious illness, and a deep secret all collide, the three friends are launched into an unfamiliar adult world, a world from which their summer haven can no longer protect them.

With warmth, humor, and wisdom, Brashares makes us feel the excruciating joys and pangs of love–both platonic and romantic. Thoughtful, lyrical, and tremendously moving, THE LAST SUMMER (OF YOU AND ME) is a deeply felt celebration of summer and nostalgia for youth.