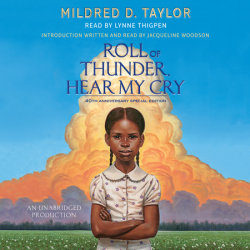 Roll of Thunder, Hear My Cry
Imprint: Listening Library
Grades: Grades 3-7
Ages: 8-12 years
Release Date: June 27, 2006
7 Hours and 26 Minutes
List Price: $34
ISBN: 9780307281722
Categories:
Juvenile Fiction - Historical - United States - 20th Century, Juvenile Fiction - People & Places - United States - African American & Black, Juvenile Fiction - Classics
Tags:
historical fiction, racism, african american, mississippi, great depression, young adult, family, segregation, civil rights, african americans, ya, history, children's, 1930s, discrimination, race, children, classic, historical, children's literature, classics, juvenile, prejudice, depression, american, juvenile fiction, race relations, slavery, south, children's fiction
Mildred D. Taylor's Newbery Award-winning masterpiece with an introduction written and read by Jacqueline Woodson, just in time for its 40th Anniversary! 

Set in Mississippi at the height of the Depression, this is the story of one family's struggle to maintain their integrity, pride, and independence in the face of racism and social injustice. And it is also Cassie's story--Cassie Logan, an independent girl who discovers over the course of an important year why having land of their own is so crucial to the Logan family, even as she learns to draw strength from her own sense of dignity and self-respect.