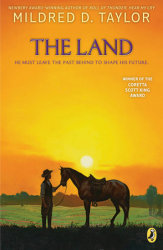 The Land
Imprint: Listening Library
Grades: Grade 5 & Up
Ages: 10 and up
Release Date: October 10, 2006
10 Hours and 54 Minutes
List Price: $55.25
ISBN: 9780739349533
Read by Ruben Santiago-Hudson
Approx. 12 hours, 15 minutes
8 cassettes

The prequel to Newbery Medal winner Roll of Thunder, Hear My Cry.
Paul-Edward Logan, grandfather of Cassie (Roll of Thunder, Hear My Cry) is born during the Civil War, the son of a white plantation owner father and a former slave mother. Though this heritage was not unusual for the time, this upbringing is. Paul-Edward's father sees to it that Paul-Edward and his sister enjoy many of the same privileges as their white half-brothers. But, as the age of 14, Paul-Edward runs away to fulfill his dream: to won land as good as his father's plantation.