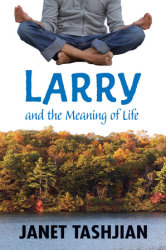 Larry and the Meaning of Life
Imprint: Listening Library
Grades: Grade 7 & Up
Ages: 12 and up
Release Date: October 28, 2008
4 Hours and 31 Minutes
List Price: $32.30
ISBN: 9780739372777
Recipe for Spiritual Enlightenment

Mix one confused and depressed eighteen-year-old1 with a spiritual guru,2 a search for meaning at Walden Pond,3 and a group of friends and family who won't give up.4 Mix in an old girlfriend,5 a dog, and philosophical issues.6 Bake at 350 degrees for a few months. Serves: more than you could imagine.

1. Hey, it happens to the best of us.
2. Yeah, right.
3. It usually works.
4. Gotta love 'em.
5. Don't ask–it's a long story.
6. Organ donor, anyone?