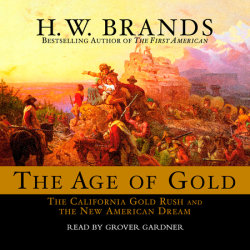 The Age of Gold
The California Gold Rush and the New American Dream
Imprint: Books on Tape
Genre: History - United States - 19th Century

Release Date: July 20, 2021
17 Hours and 53 Minutes
List Price: $95
ISBN: 9780593556955
By the Author of the Bestselling Pulitzer Prize Finalist THE FIRST AMERICAN

THEY WENT WEST TO CHANGE THEIR LIVES AND IN THE BARGAIN THEY CHANGED THE WORLD. THIS IS THE EXTRAORDINARY STORY OF THE MEN AND WOMEN OF THE GOLD RUSH.

When gold was first discovered on the American River above Sutter's Fort in January 1848, California was sparsely populated frontier territory not yet ceded to the United States from Mexixo. The discovery triggered a massive influx as hundreds of thousands of people scrambled to California in search of riches, braving dangerous journeys across the Pacific, around Cape Horn, and through the Isthmus of Panama, as well as across America's vast, unsettled wilderness. Cities sprang up overnight, in response to the demand for supplies and services of all kinds. By 1850, California had become a state -- the fastest journey to statehood in U.S. history. It had also become a symbol of what America stood for and of where it was going.

In The Age of Gold, H. W. Brands explores the far-reaching implications of this pivotal point in U.S. history, weaving the politics of the times with the gripping stories of individuals that displays both the best and the worse of the American character. He discusses the national issues that exploded around the ratification of California's statehood, hastening the clouds that would lead to the Civil War. He tells the stories of the great fortunes made by such memorable figures as John and Jessie Fremont, Leland Stanford and George Hearst -- and of great fortunes lost by hundreds now forgotten by history. And he reveals the profound effect of the Gold Rush on the way Americans viewed their destinies, as the Puritan ethic of hard work and the gradual accumulation of worldly riches gave way to the notion of getting rich quickly.