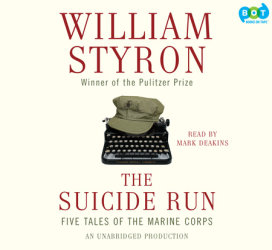 The Suicide Run
Five Tales of the Marine Corps
Imprint: Books on Tape
Genre: Fiction - Short Stories (single author)

Release Date: October 06, 2009
5 Hours and 30 Minutes
List Price: $47.50
ISBN: 9781415966372
Before writing his memoir of madness, Darkness Visible, William Styron was best known for his ambitious works of fiction–including The Confessions of Nat Turner and Sophie's Choice. Styron also created personal but no less powerful tales based on his real-life experiences as a U.S. Marine. The Suicide Run collects five of these meticulously rendered narratives. One of them–"Elobey, Annobón, and Corisco"–is published here for the first time.

In "Blankenship," written in 1953, Styron draws on his stint as a guard at a stateside military prison at the end of World War II. "Marriott, the Marine" and "The Suicide Run"–which Styron composed in the early 1970s as part of an intended novel that he set aside to write Sophie's Choice–depict the surreal experience of being conscripted a second time, after World War II, to serve in the Korean War. "My Father's House" captures the isolation and frustration of a soldier trying to become a civilian again. In "Elobey, Annobón, and Corisco," written late in Styron's life, a soldier attempts to exorcise the dread of an approaching battle by daydreaming about far-off islands, visited vicariously through his childhood stamp collection.

Perhaps the last volume from one of literature's greatest voices, The Suicide Run brings to life the drama, inhumanity, absurdity, and heroism that forever changed the men who served in the Marine Corps.