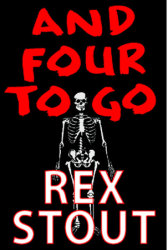 And Four to Go
This foursome contains a fatal fete, a toxic orchid, a speech turned funeral oration, & a murderer dressed to kill. Vintage mystery fare.
Imprint: Books on Tape
Genre: Fiction - Mystery & Detective - Private Investigators

Release Date: January 02, 2007
6 Hours and 22 Minutes
List Price: $85.50
ISBN: 9781415937716
"It is always a treat to read a Nero Wolfe mystery. The man has entered our folklore."—The New York Times Book Review

Embark on a year of murder and mystery. It begins at Christmas with a party and a poisoning, then blossoms into spring with sudden death at the Easter Parade. With a killer in the crowd, the Fourth of July is no picnic, and the calendar is overbooked with corpses when death is in season. Here are four cunning cases that leave everyone guessing. When it comes to sleuthing out a clever solution, only Nero Wolfe has a clue.