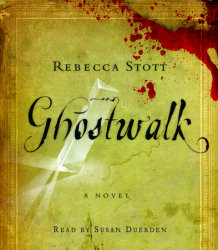 BOT Exclusive
Ghostwalk
Imprint: Books on Tape
Genre: Fiction - Thrillers - Historical

Release Date: May 08, 2007
11 Hours and 40 Minutes
List Price: $76
ISBN: 9781415938645
A Cambridge historian, Elizabeth Vogelsang, is found drowned, clutching a glass prism in her hand. The book she was writing about Isaac Newton's involvement with alchemy–the culmination of her lifelong obsession with the seventeenth century–remains unfinished. When her son, Cameron, asks his former lover, Lydia Brooke, to ghostwrite the missing final chapters of his mother's book, Lydia agrees and moves into Elizabeth's house–a studio in an orchard where the light moves restlessly across the walls. Soon Lydia discovers that the shadow of violence that has fallen across present-day Cambridge, which escalates to a series of murders, may have its origins in the troubling evidence that Elizabeth's research has unearthed. As Lydia becomes ensnared in a dangerous conspiracy that reawakens ghosts of the past, the seventeenth century slowly seeps into the twenty-first, with the city of Cambridge the bridge between them.
Filled with evocative descriptions of Cambridge, past and present, Ghostwalk centers around a real historical mystery that Rebecca Stott has uncovered involving Newton's alchemy. In it, time and relationships are entangled–the present with the seventeenth century, and figures from the past with the love-torn twenty-first-century woman who is trying to discover their secrets.
A stunningly original display of scholarship and imagination, and a gripping story of desire and obsession, Ghostwalk is a rare debut that will change the way most of us think about scientific innovation, the force of history, and time itself.