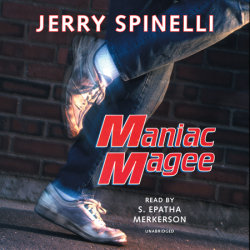 Maniac Magee
Imprint: Listening Library
Grades: Grade 5 & Up
Ages: 10 and up
Release Date: June 27, 2006
4 Hours and 23 Minutes
List Price: $19.95
ISBN: 9780307243188
Categories:
Juvenile Fiction - Family - Orphans & Foster Homes, Juvenile Fiction - Social Themes - Runaways, Juvenile Fiction - Social Themes - Prejudice & Racism
Tags:
racism, realistic fiction, friendship, homelessness, running, family, orphans, orphan, young adult, ya, children's, race, children, adventure, segregation, race relations, sports, school, jerry spinelli, children's fiction, juvenile, kids, children's literature, juvenile fiction, baseball, pennsylvania, death, award winner, legend, children's book
He wasn't born with the name Maniac Magee. He came into this world named Jeffrey Lionel Magee, but when his parents died and his life changed, so did his name. And Maniac Magee became a legend. Even today kids talk about how fast he could run; about how he hit an inside-the-park "frog" homer; how no knot, no matter how snarled, would stay that way once he began to untie it. But the thing Maniac Magee is best known for is what he did for the kids from the East Side and those from the West Side.